Property manager jailed over Huddersfield boys' fire deaths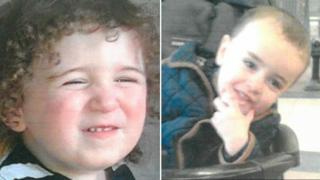 A property manager has been jailed for a year after two young boys died in a fire in a rented house with no smoke alarms.
Three-year-old Logan Taylor and his brother Jake, two, died in the blaze in Fartown, Huddersfield in February 2016.
At Leeds Crown Court, Kamal Bains, whose property firm managed the house, admitted health and safety breaches.
Bains, 51, of Stableford Gardens, Huddersfield, had faced manslaughter charges which were dropped.
Yorkshire breaking news: MP cuts back duties on health grounds; Maguire backs brothers at pre-season friendly
At the sentencing hearing, judge Mr Justice Males told him: "Your failure to fit smoke alarms was a significant cause of the children's deaths.
"Thus the harm caused by your failure could not have been more serious."
Bains was a director at now-defunct Prime Property Estates (Yorkshire), which maintained 140 homes in Huddersfield on behalf of private landlords for 10% of the rent.
Fire investigators found the blaze at the three-bedroom semi-detached house started with an electrical fault in a TV in the boys' bedroom while they were asleep.
Bains told police smoke alarms had been installed, but fire investigators found no trace, the court previously heard.
Police believe it to be the first prosecution of its kind in the UK since new legislation was introduced in 2015 requiring private landlords to have at least one alarm installed on every storey of their properties.
Prosecutor Allan Compton told the jury the deaths were "eminently avoidable" as tests had proven their mother would have had time to rescue the boys if an alarm had been fitted.
Mr Justice Males also told the court: "I want to conclude by making it absolutely clear that, whatever some people might think, the sentence which I am passing today is not in any way a reflection of the value of the lives which have been lost.
"The lives of Logan and Jake were of infinite value and nobody must be in under any misapprehension about that."
At a previous hearing, mother Emma Taylor told the court she had asked Bains "time after time" to fit fire alarms at the property.
The jury heard her "desperate" attempts to rescue her sons were unsuccessful when she was beaten back by smoke and flames.
Ms Taylor and father Jamie Casey said in statement: "We do hope that this case highlights this important issue and for people to know their responsibilities as landlords or letting agents and to take appropriate action to ensure that any property they are responsible for has working smoke alarms.
"Such a simple check could have saved the lives of our boys and we want to ensure that this does not happen to anyone else."