Jordan Burling: Women jailed after teen 'rotted to death'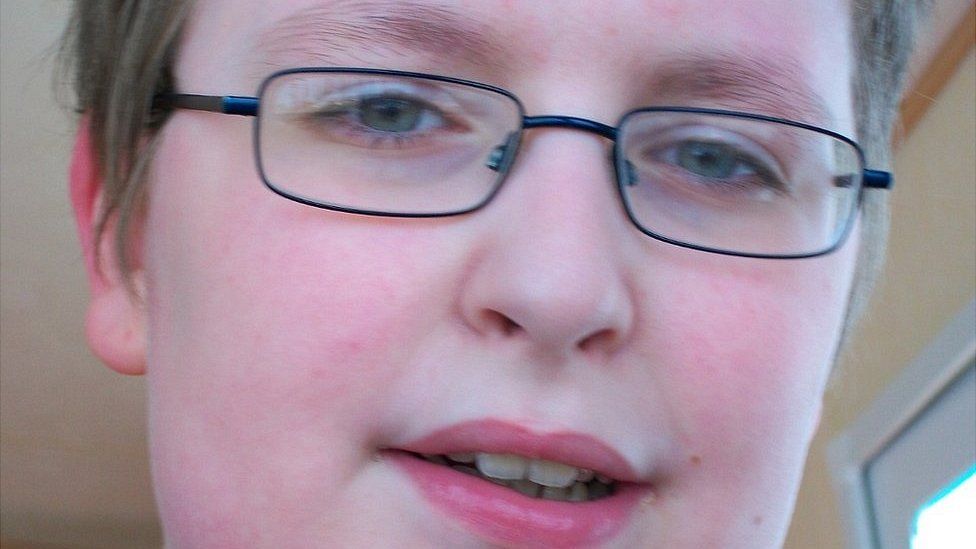 The mother and grandmother of an emaciated teenager who was likened to a World War Two concentration camp victim have been jailed for manslaughter.
Jordan Burling, 18, went into cardiac arrest in Leeds in 2016 and died weighing less than six stone (37kg).
Mother Dawn Cranston and grandmother Denise allowed Mr Burling to "rot to death", Leeds Crown Court heard.
Dawn, 45, and Denise, 70, were convicted of manslaughter and jailed for four and three years respectively.
Mr Burling's sister Abigail Burling, who was found guilty of causing or allowing a vulnerable adult's death, was ordered to serve 18 months in prison.
The judge told the three women it was "almost beyond belief" Mr Burling "should have been allowed to die in his own house in the bosom of his family".
"Through your gross negligence, a precious human life was lost needlessly," he said.
Mr Justice Spencer said the pictures of the teenager in an emaciated state were "hauntingly reminiscent of starving victims of extermination camps in the Second World War".
Mr Burling's malnutrition was such he weighed only 5st 11 lbs (37kg) when he died "that was not much more than twice the weight he had been at the age of four", he said.
His aunt, Susan Burling, read a victim statement on behalf of his father, Steven, which said the family were trying to cope with a "living nightmare".
"I just can't understand why all these horrific things have happened to me and my family," it said.
During the trial, the prosecution said Jordan was allowed to "rot to death" by the women, who failed to phone for medical assistance until it was too late.
Paramedics found Mr Burling wearing a soiled nappy and lying in an unresponsive state on a makeshift inflatable bed in the living room of the house in Butterbowl Garth, Farnley.
A subsequent police search of the property found the remains of a baby boy in a rucksack, hidden on the top shelf of a cupboard in Mr Burling's bedroom for 14 years.
Before the trial, his mother admitted endeavouring to conceal the birth of a child and was given a 12-month sentence to run concurrent with her jail term for manslaughter.
An NHS dietician had told the court Mr Burling, who was 5ft 5ins (1.67m) tall, had a Body Mass Index (BMI) of 13.6, which falls in the "severe thinness" category.
The figure, based on measurements taken during his post-mortem examination, was the lowest the dietician had recorded in her 26-year career.
During the trial, the jury was shown several pictures of Mr Burling taken by his mother on a mobile phone including one on 20 May, just over a month before he died.
It was estimated he had been malnourished for at least six months before his death on 30 June, having developed bed sores so deep they left bone exposed.
The judge said the three women had attempted to take care of Mr Burling as his condition worsened including washing him and changing his adult nappy.
They were "relentless and unpleasant tasks" and Mr Burling's death was the greatest punishment the three would have to bear, he said.
Dr Cleo Van Velsen, a consultant psychiatrist who assessed Dawn, told the jury her behaviour was consistent with a dissociative disorder called depersonalisation - a defence mechanism characterised by a sense of disconnect from the world and your body to cope with acute anxiety or trauma.
None of the three have any previous convictions.
In a statement read outside court, the family of Mr Burling's father, Steven, said: "We feel betrayed by the people we trusted to care for Jordan.
"Steven and the family will always remember Jordan having a bubbly and chatty personality.
"We have had two years of hell coming to terms with Jordan's death."
James Rogers, chairman of the Safer Leeds executive, said an independent review was under way into Mr Burling's death.
Related Internet Links
The BBC is not responsible for the content of external sites.