Jordan Burling death: Mother and grandmother guilty of manslaughter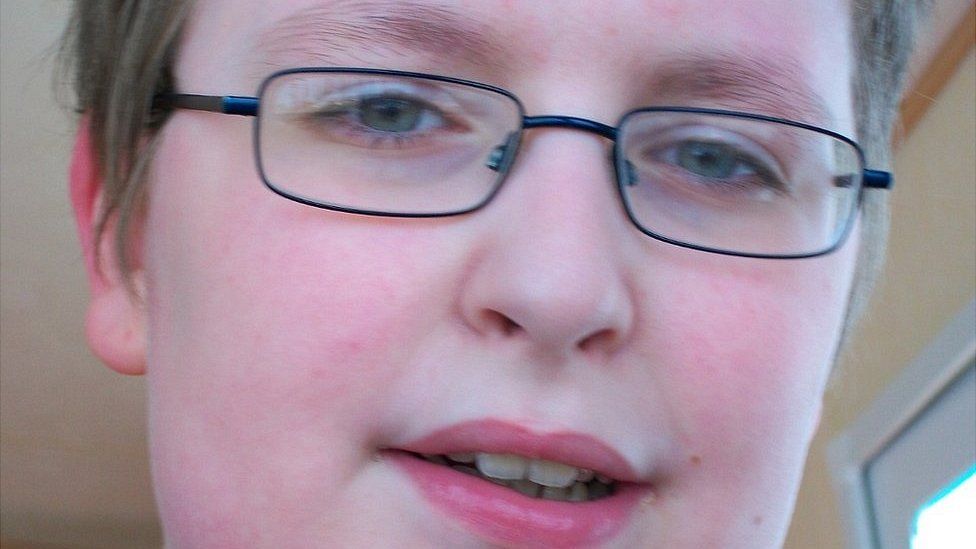 The mother and grandmother of an emaciated man who was allowed to "rot to death" have been convicted of his manslaughter.
Jordan Burling, 18, went into cardiac arrest in Leeds in 2016 and died weighing less than six stone (37kg).
Mother Dawn Cranston and grandmother Denise were both convicted after a trial at Leeds Crown Court.
Mr Burling's sister Abigail Burling, 25, was convicted of causing or allowing a vulnerable adult's death.
The jury cleared her of manslaughter, following more than two days of deliberations.
On the day Mr Burling died, paramedics found him wearing a soiled nappy and lying in an unresponsive state on a makeshift inflatable bed in the living room of the house in Butterbowl Garth, Farnley.
A subsequent police search of the property found the remains of a baby boy in a rucksack, hidden on the top shelf of a cupboard in Jordan's bedroom for 14 years.
Dawn Cranston earlier admitted a count of endeavouring to conceal the birth of a child.
At the time of Mr Burling's death, his appearance was likened to a victim of a World War Two concentration camp, with an NHS dietician telling the court he had the lowest body mass index she had ever seen.
The Crown Prosecution Service described the case as "one of the most shocking" they had ever dealt with in the Yorkshire region.
Mr Burling had lived with Ms Cranston, 45, Mrs Cranston, 70 and Jordan's uncle, with his sister living a short distance away in Cow Close Road.
It was estimated he had been malnourished for at least six months before he died, having developed bed sores so deep they left bone exposed.
Paramedic Bridget Shepherd, who treated Mr Burling, said he looked "very, very pale and very emaciated" when she first arrived on 30 June 2016, the day he died.
A post-mortem examination found he died from acute bronchopneumonia, resulting from his malnutrition, his immobility and his infected sores.
In his early life, a primary school report stated there was a "general neglect of Jordan's basic needs", with the young boy lacking toilet training, having black teeth, and few language skills.
Prosecutor Nicholas Lumley QC said "education and social services played little part in his life", particularly after his mother decided to home-school him from the age of 12.
The trial heard from a neighbour, who said the family was considered "strange and reclusive" by locals.
PC Ben McNamara, who arrived at the home shortly after Mr Burling's death, told the court the first thing Dawn Cranston asked him was how much the funeral would cost.
"I was surprised by everyone's lack of emotion. It is a strange thing to say after he had just died," he said.
Mr Burling was home-schooled by his mother from the age of 12 after being bullied at school.
His family claimed his weight fluctuated around Christmas 2015 but he started to look "very thin" the following April.
Mr Lumley said Mr Burling's three relatives "failed to seek medical assistance for him as he became immobile and helpless."
In the final months of his life, he was confined to the living room with his family changing his adult nappy and washing him.
During the trial, the jury heard the family home was targeted by youths throwing projectiles at windows regularly around 2006.
It was around this time that Denise Cranston's husband Herbert committed suicide in a bedroom, the court heard.
While giving evidence, Ms Cranston told the jury about an incident "in 2002 or 2003" when she had given birth alone in Jordan's bedroom while her family were all downstairs.
She told jurors she was completely unaware she was pregnant until she started to feel something "really heavy" in her body, and had given birth within half an hour.
The court heard "she tried everything" for up to an hour to save the baby's life including mouth-to-mouth resuscitation but there "were no signs of life at all".
"I just panicked, as nobody else knew that I was pregnant," she said.
The court heard she hid the remains of the baby in a rucksack, which she then stored in the top of a wardrobe.
The three women are due to be sentenced on Thursday.
Related Internet Links
The BBC is not responsible for the content of external sites.