Leeds Minster silhouettes commemorate WW1 soldiers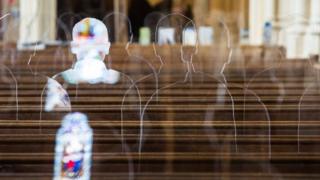 More than 75 soldiers who lost their lives in World War One have been honoured in Leeds Minster by a dozen transparent silhouettes in the church.
The remembrance is part of a national scheme called There But Not There.
The event is to coincide with the anniversary of the first day on the Battle of the Somme, on 1 July 1916 that involved the Leeds Pals battalion.
David Hawkin, a researcher on the project, said: "It's very poignant like an earthly presence."
There are 76 names associated with the church on a war memorial in the building.
Other men who died in the 1914-18 war are also commemorated within the building.
Mr Hawkin said: "Some of those were in the Leeds Pals and lost their lives on that or subsequent days.
"In the right light it's like a glimpse of the men almost as though they are sitting there but it plays tricks on your mind.
"The men had no inclination what they were getting into."
Who were the Leeds Pals?
The Leeds Pals was a volunteer battalion formed in September 1914.
In March 1916, the battalion landed in France, joining the British build up for the Battle of the Somme.
On the first day of the Somme, the battalion was hit hard and of the 750 members who fought that day, just 72 were uninjured by nightfall.
The church memorial records the names of men baptised in the church, married there and who worshipped in the congregation. At least five names are those of former boy choristers.
There But Not There aims to place a representative figure for as many as possible of the names on local war memorials around the country into their place of worship.