Huddersfield magnet fishing deaths inquest opens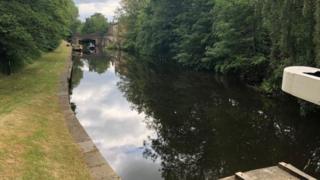 A worried woman called her husband and son only for the phone to be answered by police investigating the deaths of two men in a canal, an inquest heard.
Martin Andrews, 43, and his son Jack, 19, died while out magnet fishing in a Huddersfield canal on June 16.
The alarm was raised by concerned passers-by after personal items were found on the bank.
Their bodies were found submerged nearby, Bradford Coroner's Court was told.
More news from across Yorkshire
The inquest heard how Mr Andrews and his son, of Pudsey in Leeds, had headed out early to go magnet fishing.
They used a very strong magnet on a rope to "catch" pieces of metal in the canal, close to the River Calder in the Cooper Bridge area.
Another canal user, who spotted unattended items including clothing by the water's edge, called emergency services.
Coroner's officer Paul Denison explained how, when a phone rang and an officer at the scene answered it, it was Mr Andrews' wife, Angela, who said she was concerned because "it was out of character for them not to be home before lunchtime".
Police divers were called and their bodies were later found at nearby floodgates.
The inquest was adjourned to a date to be fixed.