Jordan Burling: Mother 'shut down' as teen's health worsened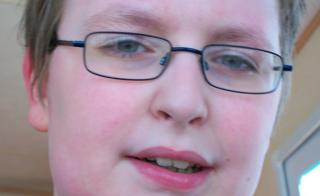 The mother of an 18-year-old man who was found in an emaciated state and later died said she "started to shut down" as his health deteriorated.
Dawn Cranston told Leeds Crown Court her son Jordan Burling's condition worsened two months before his death in Farnley.
A tearful Ms Cranston said she told him to see a doctor several times but he consistently refused.
His mother, grandmother and sister deny manslaughter.
Read more stories in Leeds and West Yorkshire
Giving evidence for the first time, Ms Cranston said her son's health changed dramatically in April 2016 where he started to remain in the same position all day, had bed sores and became incontinent.
"He was obviously losing weight, he got to the point where he wouldn't move out of the chair," she said.
The court previously heard a makeshift bed was made for him in the lounge of their home due to his immobility and he had to wear adult nappies.
Ms Cranston, 45, Jordan's grandmother Denise Cranston, 70, and his sister Abigail Burling, 25, all deny killing him.
They also deny an alternative count of causing or allowing the death of a vulnerable adult.
When asked why she had not called for a GP to see Jordan, Ms Cranston said: "I asked him about the doctors on numerous occasions; he said he wouldn't see one if one came round."
She referenced an incident a few years earlier in which Jordan was turned away from a GP surgery because he had arrived "a minute late" and said the negative experience had "put him off" doctors.
Ms Cranston told the jury she had taken mobile phone photos of her son as he became thinner to show him what he looked like in a bid to get him to seek help.
When pressed on Jordan's health, she said: "I started to shut down, when I get in times of stress I don't see the bigger picture."
Simon Kealey, Ms Cranston's barrister, asked her what she thought would happen if Jordan's condition continued to deteriorate.
She responded: "I didn't think he would die, I didn't want him to die, I tried to look after him."
Ms Cranston told the jury she had suffered several traumatic incidents in her life, including the suicide of her father in 2006, while she was in the bedroom next door.
"It sent me into freefall... I felt like I was in another world with the depression," she said.
The court heard she had not slept upstairs since her father's death, choosing to sleep on the downstairs sofa in the lounge instead.
The day's evidence ended with Ms Cranston telling the jury about an incident in 2002 or 2003 in which she gave birth alone in an upstairs bedroom while her family watched TV downstairs.
She told jurors that she was completely unaware she was pregnant until she started to feel something "really heavy" in her body, and had given birth within half an hour.
"I heard no noise, nothing. There were no signs at all of life... I just panicked, as nobody else knew that I was pregnant," she said.
The court heard she hid the remains of the baby in a nearby rucksack, which she then stored in the top of a wardrobe in the room.
She claimed that she had intended to bury the remains in a nearby park, but "did not get round to it" and was unable to as there were always other people in the house.
The rucksack was finally found by police officers carrying out a search of the property following the death of Mr Burling about 14 years after the birth.
During the prosecution opening, the court heard Ms Cranston had admitted a count of endeavouring to conceal the birth of a child.
The trial continues.