Bradford man appears in court over terrorism offences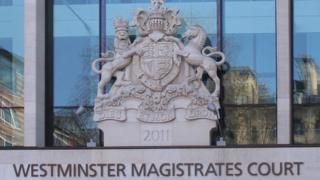 A man has appeared in court charged with arranging to send money to another person knowing it may be used for terrorism.
Asim Majid, of Cranbourne Road, Bradford, West Yorkshire, is also accused of having a publication called How To Survive In The West.
Mr Majid, 29, was arrested on 13 June by counter terrorism officers.
He appeared at Westminster Magistrates' Court and indicated he would be pleading not guilty to both charges.
Mr Majid, a CCTV operative, is charged with entering into an arrangement, between January 30 and February 9, to transfer £280 to someone, knowing or having reasonable cause to suspect the money would or may be used for the purposes of terrorism.
He is also charged with, on 13 June, having a copy of How To Survive In The West, a record of information likely to be useful to a person committing or preparing an act of terrorism.
He was arrested by officers from Counter Terrorism Policing North East following an investigation.
Mr Majid was remanded in custody to appear at the Old Bailey on 29 June.