Jordan Burling death: Family were 'strange and reclusive'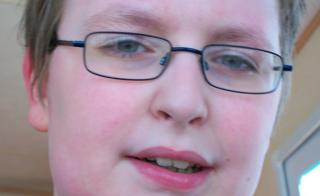 The family of a man who died after being found in an emaciated state was thought of by locals as "strange and reclusive", a neighbour has said.
Jordan Burling weighed less than six stone (37kg) and died after going into cardiac arrest in Leeds in 2016.
Leeds Crown Court heard their home was regularly targeted by youths throwing eggs at windows and banging on the door over a period of several years.
His mother, grandmother and sister deny manslaughter.
Read more stories in Leeds and West Yorkshire
The court heard a statement from Sandra Detchon, who lived near the Farnley home Mr Burling shared with his mother Dawn Cranston, grandmother Denise Cranston and his uncle.
Mrs Detchon said she never saw Mr Burling play outside and Denise Cranston had told her Jordan had "died in her arms".
Mr Burling's mother Dawn Cranston, 45, grandmother Denise Cranston, 70, and his sister Abigail Burling, 25, all deny killing him.
They also deny an alternative count of causing or allowing the death of a vulnerable adult.
Mrs Detchon said the family did not report the attacks on the house to the police or the council and it was during this time that Denise Cranston's husband took his own life.
On the day Mr Burling died, the neighbour had an ambulance parked outside her house and noticed paramedics rushing into the home.
She said: "I saw the bag that he was taken away in and I thought, 'good grief' at the size of it, because it was tiny."
The court also heard about Mr Burling's early life, with learning mentor Karen Tiffany telling the jury about an unannounced visit to the family home when Jordan was about to turn four.
Dawn Cranston tried to close the front door when they arrived and her colleague had to put her "foot in the door" to allow entry, the jury heard.
"Jordan was on the floor with a really heavy nappy on, dragging it around," the witness said.
"He was crawling around the floor and watching TV."
She noticed there was mouldy bread on the floor and the black damp running up the lounge walls was "giving off an awful smell".
The jury previously heard Jordan had experienced "at least six months of malnutrition" before his death, with his grandmother telling police he would have rejected a doctor if one had been called out.
The trial continues.