Leeds clean air zone: High emission tax plan for city centre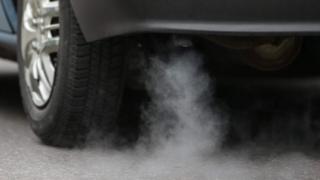 Lorries and other high polluting vehicles could be charged up to £50 a day to enter parts of Leeds city centre under revised plans.
Initially the city council had proposed charging £100 a day for older vehicles travelling within the Outer Ring Road.
It has also reduced the size of the planned clean air zone.
The scheme, which requires government approval, would hit vehicles failing to meet emissions targets and would be in place by 1 January 2020.
More stories from around Yorkshire
The council is also seeking views on whether there should be car-free days in the city, a low emission zone in the city centre or other ideas.
There are also plans for "no idling" signs for vehicles at schools and car sharing signs on busy routes.
Firms operating HGVs and coaches could be given up to £19,000 to help with retrofitting equipment to reduce emissions.
Leeds taxi and private hire drivers will also be given grants of between £1,500-£3,000 to change to hybrid and electric vehicles.
The council is looking to get money from the government's £220m Clean Air Fund to help businesses upgrade their vehicles.
Lesley O'Brien of Bradford-based Freightlink Europe haulage firm said: "I really feel our industry is being penalised.
"If you add £50 to go into the centre of Leeds for operators who go in every day, that's going to add £12,000 minimum on to their bottom line."
---
Proposed daily charge for non-compliant vehicles
Buses/Coaches - £50
HGVs - £50
Taxi and private hire - £12.50
Charges subject to consultation
---
Proposals were announced in October 2016 for clean air zones for Leeds, Birmingham, Nottingham, Derby and Southampton by 2020.
The five cities were chosen because of their high levels of nitrogen dioxide, often caused by diesel fumes.
Councillor James Lewis, Leeds City Council's executive board member for resources and sustainability, said: "Ensuring we reduce pollution levels across the whole city is a real priority for the council and something we are working hard to achieve.
"As much as the clean air charging zone forms a key part of our preferred scheme - ensuring all our communities are able to breathe clean air is the end goal."
The authority has previously said Leeds has 500 taxis and more than 4,000 private hire vehicles, with 86% diesel, 6% petrol and the remainder electric hybrid and gas/bio-fuel.