Japanese princess ends studies at University of Leeds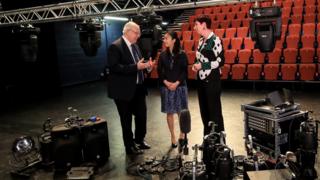 One of the Japanese Emperor's granddaughters has completed a year as an exchange student in Leeds.
Princess Kako of Akishino enrolled at the University of Leeds in September, studying courses including stage management and performance design.
The 23-year-old is the daughter of Prince Fumihito, the second in line to the throne.
She appeared for a press call at the university but did not answer questions about her time in Yorkshire.
More stories from across Yorkshire
Princess Kako enrolled as part of the university's study abroad programme, and will now return to finish her undergraduate degree at the International Christian University, in Tokyo.
The princess, who is said to have a keen interest in the arts, completed modules at the school of performance and cultural industries, which offers courses including a BA in Theatre and Performance.
These modules were complimented by elements of social psychology.
Princess Kako's older sister, Princess Mako, has also previously studied in the UK.
She spent nine months as an exchange student at the University of Edinburgh in 2012-13.
A year later, she lived in halls of residence at the University of Leicester as she completed her Master's in Art Museum and Gallery Studies.