Hundreds remember Jo Cox at Ramadan meal in Batley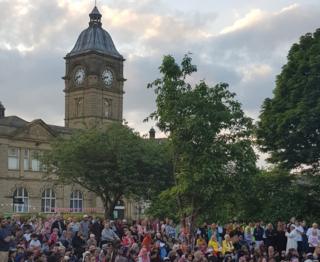 Hundreds of people gathered to celebrate the end of the daily Ramadan fast and remember Jo Cox.
Friends and family of Mrs Cox were among those at the second Big Iftar event held in Batley, West Yorkshire, on Saturday night, where she was MP.
The first was staged in 2017, a year after she was shot and stabbed during the EU referendum campaign.
Her sister Kim Leadbeater, who spoke at Saturday's gathering, said "Jo was all about bringing people together".
The event took place at sunset in the Memorial Gardens and Market Square in Batley.
Molana Irfan, one of the organisers, said: "We are living in a time where there is some hate around, therefore it is very important that we as human beings remain together and care for one another."
The Reverend Mark Umpleby said: "We had an amazing evening last night under the stars."
In her first speech to Parliament on 3 June 2015, Ms Cox said: "We are far more united and have far more in common with each other than things that divides us."