Dementia patient attacked at Leeds care unit, family says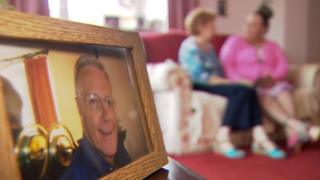 A man with dementia came out of a respite care unit with broken ribs and a fractured skull after being attacked by other patients, his family claimed.
Tony Thompson, 83, from West Yorkshire, was admitted to The Mount in Leeds in April 2017 for two weeks respite care.
While he was there he also suffered extensive bruising, his daughter Clare said.
Leeds and York Partnership NHS Foundation Trust, which runs the unit, is investigating the claims.
Mr Thompson's family said they took him to the unit as there was no specialist respite care available in the area.
They said they wanted to highlight the lack of options available to people with dementia and their families.
"When he entered he was still independent, able to dress himself, make a cup of tea, and help prepare dinner," his daughter said.
"When he came out he was unable to lift his head, walk, communicate and flinched when he was touched."
"We could not believe it, we got a wheelchair and took him to the car, and he was unable to get in," she added.
His wife Jean said: "To say this all started because I wanted a couple of weeks off - it's been horrendous."
Mr Thompson, who has spent the past year being cared for on hospital wards in Leeds and Bradford, has now been offered a place at a care home in Harrogate.
In a statement, Leeds and York Partnership NHS Foundation Trust, which runs The Mount, said: "Our priority is the safety and wellbeing of our patients and we were sorry to hear the concerns of Mr Thompson's family."
"We are keen to listen to families and carers about how we can improve, and take all concerns very seriously."
It said Mr Thompson was on a dementia inpatient ward, which provides assessment and treatment for people with symptoms including challenging behaviour.