Blue plaque honour for 'first A&E doctor' Maurice Ellis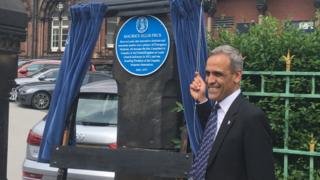 A blue plaque in honour of the man who ran the UK's first accident and emergency department has been unveiled in Leeds.
Dr Maurice Ellis was the first specialist in emergency medicine in the country, and was put in charge at the Leeds General Infirmary (LGI) in 1952.
Leeds Civic Trust said it was fitting he was to be honoured in the same year LGI celebrates its 150th anniversary.
The doctor - known as Father Ellis - became a pioneer in his field.
More news from around Yorkshire
He was the founding president of Casualty Surgeons Association - now the Royal College of Emergency Medicine - that celebrated its 50th anniversary last year.
The plaque is on a gatepost at the hospital and was unveiled by Dr Tajek Hassan, consultant emergency physician at LGI, and president of the Royal College of Emergency Medicine.
It reads: "Maurice Ellis FRCS. Born in Leeds, this innovative clinician and passionate teacher was a pioneer of emergency medicine. He became the first consultant in casualty in the United Kingdom at Leeds General Infirmary in 1952 and was founding president of the Casualty Surgeons Association. 1905 - 1977."
Stephen Bush, a consultant in emergency medicine at the hospital, said LGI was "where it all started".
He said the plaque was "a fitting tribute" and "something tangible to prompt people to ask questions when they see it".