Kia Gott: Quadruple meningitis C amputee returns home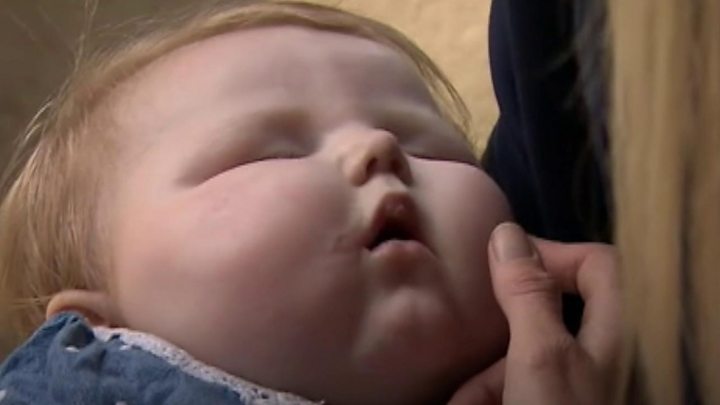 A one-year-old girl who had her limbs amputated after contracting meningitis C has been allowed home for the first time since being admitted to hospital.
Kia Gott, from Bradford, has been in hospital since September.
Her father Paul said: "It's just unbelievable - it's been a very long nine months but it has finally come to an end."
Medics previously described Kia's condition as "one of the worst cases of meningitis" ever seen.
Mr Gott said: "She has come home for the day on Thursday, and within weeks she could be home permanently."
Mother Vikki Mitchell added her daughter was "as strong as an ox" and "absolutely amazing".
Bradford Council said a special team was carrying out an assessment for Kia's planned discharge from hospital and the authority would work with the family.
A council spokesperson said: "Nobody can fail to be moved by what Kia and her family are going through.
"It is vital that there is a comprehensive and unified package in place."
Ms Mitchell said Kia, who has been moved from Leeds General Infirmary to Bradford Royal Infirmary in preparation for her permanent return home, was doing much better.
"It's extremely emotional because we thought this day might never come," she said.
"It means the world to us, the kids just want their sister back here, they miss her.
"Kia has started presenting with seizures, so they've started her on epilepsy medicine, but other than that she is doing really well."
Her parents have moved to a larger house in Wyke and have been busy getting it ready for Kia.
Mr Gott said the family would "take it day by day and see where we go".
"We need to make the best life we can for all of us," he added.
What is meningitis?
Meningitis is an infection of the meninges - the membrane that surrounds the brain and spinal cord
Meningococcal bacteria are common and carried harmlessly in the nose or throat by about one in 10 people
They are passed on through close contact
Anyone can get meningitis but babies and young children are most vulnerable
Meningitis can cause life-threatening blood poisoning if it is not treated quickly
Symptoms can include a high fever, a blotchy rash, a stiff neck, drowsiness, vomiting and headaches
These symptoms can appear in any order and some may not appear
Source: NHS Choices, Meningitis Now and BBC Health