Wayne Bell jailed for neo-Nazi group social media posts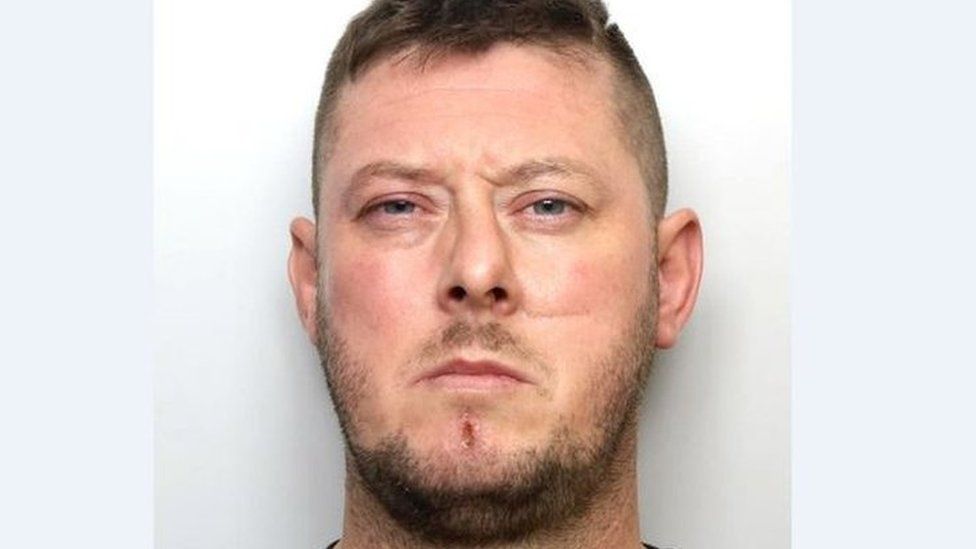 A man described as a "poster boy" for a banned far-right terror group has been jailed after using social media to post racist and anti-Semitic material.
Wayne Bell, 37, made hundreds of posts on Twitter and a Russian social media site, including one describing Jewish people as "destructive" and "vile".
He was a prominent member of National Action before it was banned in 2016.
Leeds Crown Court heard he also daubed Neo-Nazi graffiti on pillars and lamp posts in his home town of Castleford.
Bell pleaded guilty to two counts of stirring up racial hatred and three counts of possessing multiple items in order to destroy or damage property.
Sentencing him to four years and three months in jail, Mrs Justice Cheema Grubb said: "It is simply an act of birth that you are white and another man is black but you regard yourself as superior.
The court was told this would be added on to a 30-month jail term he is already serving for violent clashes with left wing activists in Liverpool in 2016.
"You are not someone who is content to seethe in private at the fact that people of other races are free and can thrive in peace."
The court heard that Bell, of Mount Walk, Castleford, "stored stashes of extreme material intended to use as part of a propaganda campaign on behalf of the extreme organisation".
His online activity between March and December 2016 started when he set up a profile on the Russian site VK under the pseudonym Celtic Raider.
On there he posted, commented and provided links to videos and publications in excess of 400 times, including an a image of a man being hung by a rope with the Star of David on his forehead.
The court heard that National Action, which started in 2013, had a small membership and aimed to recruit and "poison the minds" of young people aged 15 to 29.
Bell, who featured in two posters used in the group's recruitment campaign was said to be a regional representative.
Related Internet Links
The BBC is not responsible for the content of external sites.