'Robin Hood grave' petition attracts thousands of signatures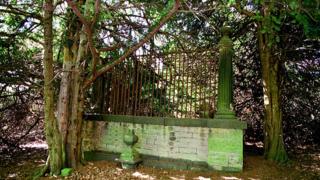 Nearly 4,000 people have backed calls to save what is thought to be Robin Hood's grave from being bulldozed.
Calderdale Council is planning to develop the area around Kirklees Park, near Brighouse, where the legendary outlaw is believed to be buried.
It wants to build industrial units at the site where the dying figure is said to have fired his last arrow from the window of Kirklees Priory.
But campaigners said it would be "a loss to the local community".
Instead, they have asked for improved access to the area to boost tourism.
'Foremost national hero'
On an online petition website, campaigners said: "Apart from two medieval manuscripts locked away in archives, there are very few tangible relics of Robin Hood in existence.
"As he is one of England's foremost national heroes, the destruction of the grave site would be a loss to the local community, a loss for local heritage, and ultimately, a loss to the international community."
A monument in the park grounds claims to mark the grave of Robin Hood, who decided his own burial site by shooting an arrow from his death bed in the gatehouse of the West Yorkshire priory, it is claimed.
The authority's proposals are also part of neighbouring Kirklees Council's Local Plan as the area sits within the Calderdale-Kirklees boundary, the Local Democracy Reporting Service has reported.
During a public inquiry into the local plan earlier this year, Kirklees Council officials said £77m of road funding to improve congested routes around nearby Cooper Bridge had been given on the basis of the site being approved, providing jobs and economic growth.
Richard Seaman, from Calderdale Council, said the authority would "continue to work closely with Kirklees to ensure the conservation of this important heritage site".
"Calderdale Council is not proposing to make any changes to its greenbelt boundary that would directly affect the Kirklees Estate," he said.
---
The gravestone reads:
"Here underneath this little stone
"Lies Robert, Earl of Huntingdon
"Never archer were as he so good
"And people called him Robin Hood
"Such outlaws as he and his men
"Will England never see again
"Obit: 24 December 1247AD."
---