Bin workers in Kirklees confirm strike dates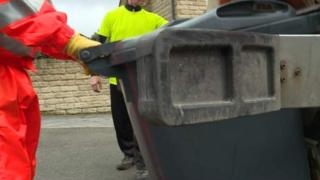 Strike action by bin collectors will affect parts of West Yorkshire between 4 and 10 June.
The action is part of an ongoing dispute in Kirklees amid claims some workers have been refused leave to help dying relatives or sick children.
Unison says Kirklees Council's 70 waste staff are owed a total of 23 years' leave and claim "bullying" by managers.
Kirklees Council said it was "extremely disappointed" by the announcement.
The union alleges workers with personal emergencies have even had requests for a half day off denied.
Kirklees Council said it would not "tolerate bullying or harassment" and took any allegations "very seriously".
More on this story and others in West Yorkshire
The union has called for the council to employ an "adequate" number of bin collectors and arrange manageable bin rounds so staff can use their holiday allowances.
Paul Holmes, Kirklees branch secretary for Unison, said: "We have issued our 14 days notice to Kirklees. That is a legal requirement that was intend to strike.
"We've called the strike for June 4-10.
"It will start at midnight so our members will not be working the five weekdays or the weekend."
He added that they were meeting with ACAS on Wednesday.
"We have always said we're prepared to talk but we felt it would be better with ACAS involved," he said.
Karl Battersby, of Kirklees Council, said: "I am extremely disappointed.
"We had agreed with Unison that we would involve the conciliation service ACAS in a bid to resolve their dispute.
"ACAS are here all day tomorrow, and I understood both sides were fully behind this process."