Leeds stoma patient gives away 600 ostomy bag covers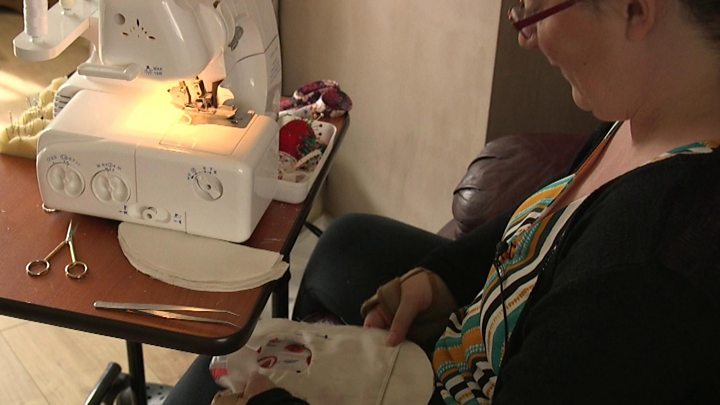 A woman who created her own ostomy bag covers after having bowel surgery has made more than 600 to give to others.
Kimberley Swales, 44, from Yeadon, West Yorkshire, had an ostomy - where part of the bowel is poked through an opening in the abdomen to remove waste straight into a bag - last year.
"As soon as I woke up from the operation I thought, I don't want people seeing that," she said.
"I now want to give other people the confidence that it's given me."
Mrs Swales, who has five children, has sewn the bags to give out to people with an ostomy since having her operation in December 2017.
More news from around Yorkshire
"I know how life-changing having a stoma [the opening in the abdomen wall] can be, and just to know it's made a difference, well that makes me so happy.
"For a lot of people it is very hard to deal with and if it makes someone smile, then it's good for me."
A few weeks after her operation she began making a few bags covers from cotton fabric for her own personal use, then started to sell them for £5.99 to cover the cost of the fabric and postage.
It was her nine-year-old daughter who suggested she make the bags for free, by asking for donations of fabric and distributing them with the help of her stoma nurse.
So far she has made hundreds of bag covers for patients at St James' Hospital in Leeds, the Children's Hospital at Leeds General Infirmary and for Wheatfields Hospice in the city.
Mrs Swales has also posted bags to people who have heard about her in the United States and Canada through her Facebook page.
"I can make 50 in a single day, 20 on others depending on how I feel."
What is a stoma?
A stoma is where an opening is made on your abdomen which allows food waste to pass out of the body.
An ileostomy is a stoma formed by bringing the end or a loop of the small bowel (ileum) out on to the surface of your abdomen, a colostomy is where your colon (large bowel) is brought out.
The stoma may be temporary (to allow the bowel time to heal) or permanent.
Source: Beating Bowel Cancer
Mrs Swales had her ostomy procedure after suffering from slow transit constipation since childhood, and was advised to have an ileostomy to improve her quality of life.
She also had nerve damage in her spinal cord, which can lead to further problems including loss of bowel and bladder control.
"I had an operation that took five hours where I had my stoma made and a hernia repaired," she said.
Mrs Swales will soon have a second operation to remove her large bowel, repair four more hernias and create what is knows as a "Barbie Butt", where your colon, rectum and anus are removed.
"If it takes my mind off my own pain rather than what's going on in my body, it is so worth it," she said.