Jeremy Hunt says Huddersfield Royal Infirmary plan flawed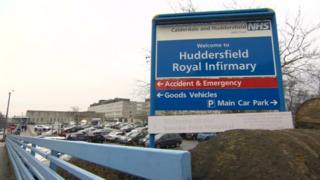 Health Secretary Jeremy Hunt has urged hospital bosses to rethink plans to downgrade Huddersfield Royal Infirmary.
Calderdale and Huddersfield NHS Foundation Trust wants to close the hospital, replace it with a smaller 64-bed unit, and move A&E care to Halifax.
Jeremy Hunt said the "proposals are not in the interests of the people of Calderdale and Greater Huddersfield".
Huddersfield Labour MP Barry Sheerman and Colne Valley Labour MP Thelma Walker said they were "delighted".
Mr Sheerman tweeted that it was "a victory for the campaign" to stop the downgrade.
Under the plans, all emergency acute and high-risk planned care would be transferred from the 400-bed hospital to Calderdale Royal Hospital in Halifax.
People in Huddersfield would have to be taken to Halifax, Wakefield or Barnsley for full emergency treatment, or across the Peak District to Oldham or east Manchester.
Colne Valley MP Thelma Walker tweeted to say it the campaign was "another step closer to success".
In a letter the health secretary said the Independent Reconfiguration Panel (IRP), which reviews proposals for changes to NHS services, has serious doubts about the plan.
He said the panel is worried about "a lack of consistency with the original proposals and scepticism about whether proposals of this scale and complexity are actually deliverable".
"It is also not clear that capital financing of this scale, for a project of this type, would be available," he added. "I would ask the NHS locally and nationally to reconsider."
The trust has previously said it believed the proposed reconfiguration of hospital services is "the best way to secure safe and sustainable services into the future".
Councillor Adam Wilkinson, the joint chair of the Calderdale and Kirkleees Joint Health Scrutiny Committee, said: "The Secretary of State has indicated that he is sceptical of whether proposals of this scale and complexity are actually deliverable.
"I am also pleased that he shares the committee's view that much more work needs to be done to ensure adequate community services are in place."
Mr Hunt has asked for an update on the situation in three months' time.