Bradford head-stamp killer guilty of murder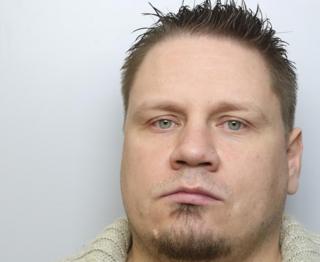 A man who killed his victim by stamping on his head has been found guilty of murder.
Police found the body of Tadeusz Pac, 39, after they went to a house in Bradford in November.
Dawid Kutek, 33, had denied the charge but a jury at Bradford Crown Court returned a unanimous guilty verdict.
Mr Pac had been attacked in the kitchen of Kutek's flat in Ashgrove, Great Horton, and marks matching Kutek's sandals were found on his head.
Prosecutor Peter Moulson QC told the jury at the start of the trial a post mortem examination of Mr Pac's body revealed he had died as a result of "multiple blunt force injuries".
Kutek was wearing socks at the time of his arrest and Mr Moulson told the jury a pair of sandals, recovered by police from the flat, had caused the patterning to Mr Pac's head.
Mr Moulson said a blood pattern analysis of Kutek's socks was consistent with him wearing the sandals at the time of the assault.
"The only candidate for this killing is Kutek by scientific analysis," he told the jury.
Mr Moulson said Kutek said Mr Pac had fallen over when he was drunk, but he later told the deceased's sister he had been attacked by a group of "hooded males".
Kutek also claimed "a mystery man" was responsible in a police interview.
Judge Neil Davey QC remanded Kutek in custody to await his sentence on a date to be fixed.