Tetley's beer brewed in Leeds after six-year hiatus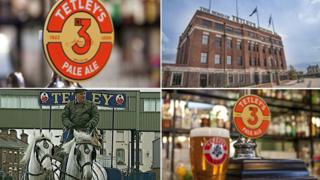 Tetley's beer is being brewed in its home town again after a break of more than six years.
The firm, one of Leeds's oldest companies, saw its brewery close in 2011 after almost 200 years.
At its peak it was Britain's largest cask ale brewery, employing thousands of people, and having ownership of about 1,000 pubs.
No.3 Pale Ale is now being made at Leeds Brewery in partnership with parent company Carlsberg.
Emily Hudson, brand manager for Tetley's, said: "We recognise the affection and support for Tetley's that still lives on across the country, particularly in Yorkshire and the brand's home city of Leeds.
"With this in mind, we felt it was a fantastic opportunity to team up with Leeds Brewery to recreate the recipe within a mile of where it would have originally been brewed 150 years ago."
Founder of Leeds Brewery Sam Moss said it was a great opportunity to create a beer inspired by the recipe from the Tetley's archives.
At the time of the closure of the brewery, which had been on the same site since 1822, local beer writer Barrie Pepper said it was an integral part of the city.
Various campaigns criticised the move but Carlsberg said the beer market faced "a perfect storm of falling consumption, increasing costs and rising tax".