Ossett councillor Nick Farmer was sacked over 'offensive' comments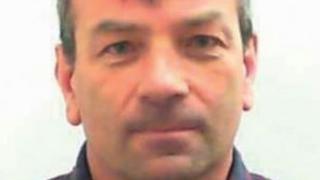 A Tory councillor was suspended after it emerged he was sacked as a firefighter for "offensive" remarks.
Nick Farmer was re-elected to his Ossett seat last week as an independent, after the Conservative Party suspended him on 2 April.
He was dismissed by West Yorkshire fire service in 2017 after making remarks about "retards" and referring to an area as "Karachi".
Mr Farmer said he will continue in his role as a ward councillor.
He appealed against his dismissal but in November a tribunal judge turned down his claim and said the comments, made while on duty, were "inexcusable".
In the tribunal hearing the judge heard Mr Farmer made racially offensive remarks about an area he was working in, referring to it as "Karachi".
'Objectively offensive'
Mr Farmer also commented on dementia-friendly stickers on fire service vehicles, and referred to some people as "retards", the tribunal judgement said.
The judge added: "The language used in front of his crew regarding the dementia-friendly stickers was crass at best and objectively offensive."
Although he has been suspended by his party Mr Farmer, who stood for UKIP in 2014, can continue to serve as a ward councillor.
Details about the tribunal were published in a national newspaper at the beginning of last week.
A spokesman for Wakefield Conservatives said an investigation into Mr Farmer's dismissal was ongoing.
He said: "Nick Farmer was suspended on the Wednesday before the election pending an investigation, following the events covered by the Daily Mirror."
Mr Farmer said: "I'm confident that from this investigation the truth will come out.
"I've been advised by many people in Ossett to carry on as a councillor and that's what I'll do."
In a statement Wakefield Council said: "On 4 May the Conservative Group included Coun Nick Farmer as a member of that political group. Wakefield Council has not been advised otherwise which means he remains a Conservative councillor."
In relation to his suspension by the Conservative Group, Bernadette Livesey, City Solicitor and Monitoring officer said:
"This is a matter for the Conservative Group to deal with following their standard disciplinary procedures.
"The council was aware of Coun Farmer's dismissal from West Yorkshire Fire & Rescue Service and the appeal, but under the Localism Act 2011 local authorities have no power to suspend an elected member."