Arrest over illegal waste dumping in northern England and Midlands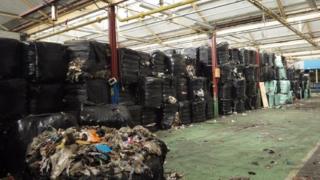 A man has been arrested in connection with a national investigation into the illegal dumping of waste.
The 46-year-old was taken into custody and evidence was seized from a property in Hebden Bridge, West Yorkshire, the Environment Agency (EA) said.
It is part of an investigation into the illegal dumping of up to 25,000 tonnes of waste at sites across the Midlands, North West and North East.
Operation Cesium is looking into illegally dumped waste at 17 sites.
Michael Brown, lead investigator, said: "This investigation is complex, with waste being illegally dumped across many parts of the country, blighting those communities.
"Some of the sites have already caught fire, causing a significant impact on communities, the environment and our emergency service partners."
In April, dawn raids were carried out in Staffordshire, Herefordshire and Hertfordshire, with two arrests made.
The arrests were made for offences relating to Section 33(1)(a) of the Environmental Protection Act 1990, and Reg 38(1)(b) of the Environmental Permitting Regulations 2010.
The EA said the men had been released subject to further inquiries.
The investigation, which started in 2016, is expected to continue for some months, the agency added.