TransPennine Express bike reservation policy 'draconian'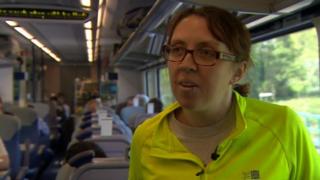 A train company's new policy forcing cyclists to reserve spaces for bikes on services 24 hours before travelling has been branded "backward and draconian".
From 20 May, cyclists cannot bring bikes on to TransPennine Express routes unless they have pre-booked.
Commuters said the changes removed flexibility and did little to promote the region's cycling legacy in the wake of the Tour de Yorkshire.
The rail firm said it would help reduce overcrowding on its trains.
Read more stories from across Yorkshire
Nurse Sian Hughes's commute involves train and bike, but she works in different hospitals each week.
"I cover when my colleagues are on leave or off sick so I can have a call from a manager the day before saying where I'm covering.
"Normally I would just turn up at the station. This is going to really affect my freedom and my choice of how I travel."
The planned-change comes ahead of the introduction of the rail company's new fleet of trains later this year, a move which will more than double the number of seats on its network.
The firm said there would be space for up to four bikes on the new trains, an increase from the current two, but there would be less open space.
TransPennine said cyclists could not make short-notice reservations but said the changes did not apply to folding bikes.
Councillor Martyn Bolt from the West Yorkshire Combined Authority transport committee described the policy as a backward step.
"Yorkshire is the foremost cycling region in the country We very much benefit from cycling tourism and I don't think TransPennine appreciate that."
He said the committee was lobbying MPs and cycling groups in the hope of getting the decision reversed.
"I would hope that TransPennine would take a step back and realise introducing this draconian measure just before the summer is not of benefit to our region."