Nostell Priory's Chippendale 300th anniversary display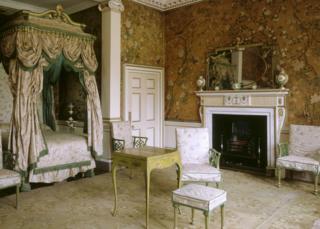 A stately home is hosting an exhibition on furniture designer Thomas Chippendale to celebrate the 300th anniversary of his birth.
Chippendale (1718-1779), born in Otley, West Yorkshire, was arguably the most influential furniture-maker Britain has ever produced.
Nostell Priory, near Wakefield, houses more than 100 Chippendale items.
Its collection is of "world-class significance", the National Trust said.
Many of the items designed for the Winn family of Nostell are documented in an archive of Chippendale's letters, invoices and drawings.
Visitors can see his correspondence on display alongside his furniture and tools.
The life of Thomas Chippendale
Born in Otley in 1718, Chippendale was an only child of John Chippendale and Mary Drake.
He probably received training as a joiner and carpenter in the family workshop.
By the 1740s he was almost certainly working in York as a cabinet maker before making his name in London, working in some of the greatest houses in the country.
His influential and lavish book The Gentleman and Cabinet Maker's Director appeared in 1754.
It was the first attempt in England to publish a book of designs for furniture as a means of self-promotion.
He fathered 12 children from his two marriages before his death in 1779.
Sources: Harewood House and the Chippendale Society
Simon McCormack, the exhibition's curator said: "Chippendale created a one-stop-shop for his 18th century clients - from fixing jammed doors to creating grand showrooms in the latest fashions."
Nostell was created by the Winn family between 1725-1785. The Georgian mansion is surrounded by landscape gardens and 300 acres of parkland.
The exhibition is part of a nationwide celebration for the tercentenary of Thomas Chippendale's birth in June 1718.