Kirklees bin collectors vote to strike in holiday row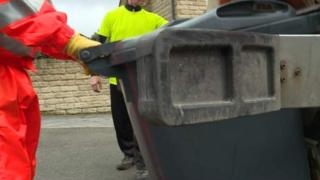 Bin collectors in West Yorkshire have voted to strike amid claims they have been refused leave to help dying relatives or sick children.
Unison says Kirklees Council's 70 waste staff are owed a total of 23 years' leave and claim "bullying" by managers.
The union alleges workers with personal emergencies have even had requests for a half day off denied.
Kirklees Council said it would not "tolerate bullying or harassment" and took any allegations "very seriously".
More on this story and others in West Yorkshire
Sixty-two papers were returned with 85.5% of members voting in favour of a walk-out, Unison said.
It said some staff had accrued up to a year of holiday to take before April 2019 but were still having requests for days off rejected.
Refuse worker Mike, who did not wish to share his full name, described industrial action as a "last resort" but said he felt like a "modern-day slave".
"It's a ridiculous situation where you dread coming into work every day," he said.
"I can't get a holiday in, I don't sleep at night because you're worrying about what your manager's going to do that day."
The union has called for the council to employ an "adequate" number of bin collectors and arrange manageable bin rounds so staff can use their holiday allowances.
Paul Holmes, Kirklees branch secretary for Unison, said: "We've had three years of bullying, harassment and pressurising workers into doing things they shouldn't be doing.
"If the bin workers took the holiday they're entitled to, the bins wouldn't get emptied, so there's 23 years of holiday left between 70 people."
He added: "When there's a personal trauma at home, somebody's dying, children are injured and are at A&E, they can't get half a day off."
Karl Battersby, of Kirklees Council, said: "The council will not tolerate bullying or harassment and take allegations of this nature very seriously.
"We have commissioned a review of the cleansing service to make sure we can continue to deliver the best services for our residents."