Burst pipe floods Leeds student tower block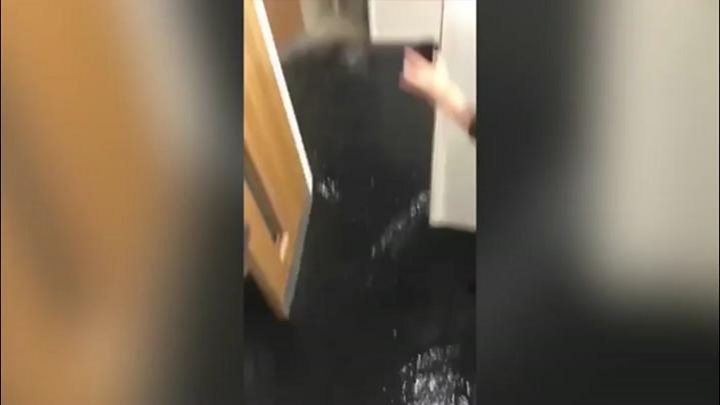 Hundreds of students were forced to leave their homes after a burst pipe flooded their tower block.
The flooding began at the Plaza building in Clay Pit Lane, Leeds, in the early hours of Wednesday.
One student said eight of the 12 floors in B Block were affected and described seeing water "all over the landing and the stairs".
Building owners, the Unite Group, said it was working to arrange alternative accommodation for those affected.
More stories from across Yorkshire
Leeds Beckett University student Kieran Dawes, 20, said he had been in his room on the eighth floor when he heard a "rumbling like thunder".
He said when he opened the door to his flat he saw water "pouring" out of a cupboard.
"It was not just leaking it was pouring out.
"From when it first started rumbling within a couple of minutes my floor was absolutely soaked and then it just got worse and worse.
"It was pouring down the stairs."
Fellow student James Douglas, 19, who lives on the ninth floor, said his flatmate had woken him after hearing "thundering water".
"At first he thought it was outside but then he came out of the flat and went down a floor and there was water all over the landing and the stairs," he said.
"The first thing we thought was we need to get out of here. It was a bit frightening.
"Luckily the security were quick to react."
People living in the building were taken to nearby student accommodation before being moved to Leeds Beckett's Rose Bowl building.
Mr Dawes said he and other students have been told they will be given hotel accommodation until they can return to their homes, though some are being take to hotels as far away as Doncaster.
Mr Douglas said people living in the flooded flats were told it may be "about a week" before they can return home.
A spokeswoman for Unite said they had been alerted to a burst pipe at the building in the early hours of the morning.
"We have evacuated the flooded areas and colleagues are looking after those students while we arrange alternative accommodation," she said.
"We are working closely with our university partners and are working to resolve this issue as quickly as possible."
A spokesman for Leeds Beckett said: "All affected students are currently being catered for in our food courts free of charge and additional welfare support is being offered through our student hub."
He said the university was working with Unite to establish the cause and secure alternative accommodation.