Wakefield City Academies Trust spent £1m sacking staff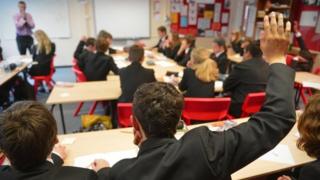 The failed Wakefield City Academies Trust spent more than £1m of public money to sack staff before announcing it was due to close, accounts show.
Documents reveal the trust made redundancy payments worth £454,000 and severance payments worth £640,000.
Despite the payments, the overall number of staff employed by the trust increased by 102 over the same period.
The trust was contacted for a comment, and said in its accounts the payments were "cost-effective".
Read more stories from Yorkshire
It ran 14 primary and seven secondary schools across west, south and east Yorkshire, providing education to about 8,500 children.
In September it announced plans to hand the schools back to the government, claiming it could not rapidly improve them.
Documents filed at Companies House, which cover the period up to 31 August 2017, show that in the previous 12 months more than £1m had been spent on staff restructuring costs - an increase from £843,000 spent on similar costs in 2016.
As part of the pay-offs, £232,000 was spent on non-contractual and non-statutory payments. These ranged in value between £32,000 and £4,000.
'Cost-effective'
Between 2016 and 2017 the number of staff employed by the trust increased from 1,613 to 1,715.
The accounts also show taxpayers will have to fund an additional £395,000 in staff settlement payments and legal fees as the trust is wound up.
In its submission to Companies House the trust said it recorded an overall surplus budget for 2016/17.
It added that redundancy and severance payments were "cost-effective, providing a financial saving over a contractual severance process and ongoing salary costs".
Councillors in Wakefield called on the police to investigate the trust's failure, but West Yorkshire Police said "no crimes had been committed".
In January the Department for Education announced that new sponsors had been found for 11 out of the 21 schools.