Pet cemetery plan aims to boost Calderdale Council funds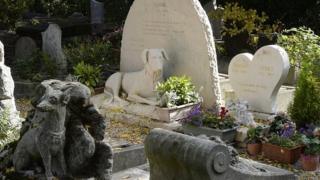 A West Yorkshire council is considering opening its first pet cemetery to help the authority generate revenue.
Calderdale Council said it was having to find ways of raising money to plug funding gaps left by budget cuts from central government.
It hoped to open a pet cemetery in Elland by 2019, followed by another similar site in the upper Calder Valley.
The move was first mooted during a council commercialisation review.
Read more stories in West Yorkshire
The first pet cemetery has been earmarked for a woodland area at Park Wood Crematorium.
Andrew Pitts, the authority's assistant director for neighbourhoods, said: "We know that for many people, pets are a much-loved part of the family and it's a very upsetting time when they sadly pass away.
"We want to give bereaved families the chance to remember their pets through an official memorial site."
He added: "There are currently no Calderdale Council-run pet cemeteries or memorial gardens, and we are not aware of any others in the borough."