Alcoholic mother's children left home alone in Bradford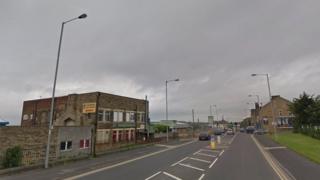 Two barefoot children were found wandering the streets in their pyjamas while their alcoholic mother was out drinking, a court has heard.
Bradford Crown Court was told the youngsters - both aged under five - were helped by a passing lorry driver.
Prosecutor Richard Walters said the driver was horrified when he found out the children had crossed one of the busiest roads in the city.
The woman - who cannot be named - received a two-year suspended sentence.
She was also ordered to do 250 hours of unpaid work and comply with a 30-day rehabilitation order.
The court heard the children were found by a passer-by and a lorry driver in the early hours of 15 March, having crossed the busy Sticker Lane in the city.
'Appalling problem'
Their mother, who is in her 30s, had left home the previous evening, and they had gone out to look for her, the court heard.
Sentencing her to a 14-month jail term suspended for two years after she admitted child neglect, Judge Jonathan Durham Hall QC said: "It's a very sad and upsetting scenario... they crossed a very busy road before well-meaning bystanders helped."
"You have an appalling problem with alcohol and in drink you are aggressive and anti-social - you assault police officers and you wholly forget your responsibilities as a mother.
"Many people will simply not understand how a mother can leave children alone and go off drinking for nine hours," he said.
"The two children were so concerned about their position, and you, that they wandered off looking for you."
'Spiralled out of control'
The court also heard the defendant, who admitted what she did was "wrong and dangerous", was given a community order for a similar offence in 2015.
Her defence barrister Abigail Langford said her client had a long-standing difficulty with excessive drinking, but she had recently started an alcohol course and a counselling programme.
Miss Langford said the defendant had not initially intended to go out of the house for as long as she did, but things had "spiralled out of control".
She added that the children were now in care.