Family appeal to Jewish community for stem cell donor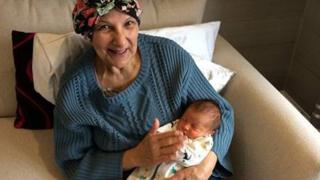 The family of a grandmother with leukaemia is appealing to the Jewish community for a stem cell donor.
Hilary Levinson, 62, from Leeds, was diagnosed with acute myeloid leukaemia in September.
The Anthony Nolan charity said she urgently requires new stem cells from a stranger with a matching tissue type.
Mrs Levinson's son Adam said "the answer for a stem cell donor to save her life probably lies in the Jewish community".
Mrs Levinson, who became a grandmother for the first time recently, was diagnosed after a blood test showed she had a lower than normal white blood cell count.
Following chemotherapy, she was told a stem cell transplant from an unrelated donor would be her best chance of a cure.
Her son Adam, who described her as "always caring of others", said: "The Jewish community is such a close community and I hope that people from all ethnic backgrounds, including Jewish people, will sign up to the register to help people like my mum."
Anthony Nolan said donors from black, Asian and minority ethnic backgrounds, which include people with Jewish heritage, make up just 16% of the register.
The charity has urged people from the Jewish community to sign up.
Rebecca Pritchard, from the charity, said: "It's time to rally once more to get the message out loud and clear, especially to people with Jewish backgrounds, so that we can find a match for people like Hilary."