Upgrade starts on UK's tallest tower at Emley Moor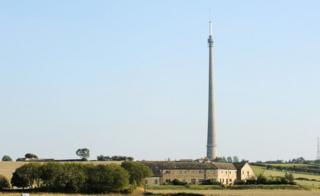 A major project to build a temporary TV transmitter taller than The Shard has begun.
It will be built next to the 1,084ft (330m) Emley Moor tower as part of a five-year upgrade plan.
The new structure will be 1,040ft (317m) and used to transmit TV signals while work is carried out on the existing transmitter
Built in 1971, the Emley Moor mast is the tallest free-standing building in the whole of the UK.
More stories from across Yorkshire
Emley Moor TV transmitter
1971 It was built after the previous tower collapsed in 1969

11,200 The tower, built of 7,000 cubic metres of concrete weighs 11,200 tonnes

865 A ladder running the entire height of the tower has 865 rungs

1.9m The tower provides digital TV and radio to over 1.9m households and 4.5m people
PA
A spokesman for communications infrastructure company Arqiva said the first 240ft (73m) will be built using a crane and the upper part using a helicopter to lift the sections in to position.
He said: "The temporary mast needs to be built, rigged and services switched over [from the main mast] before work can start on the antennas on the main tower.
"The entire operation is expected to take up to five years.