Sir Patrick Stewart launches £3.5m particle accelerator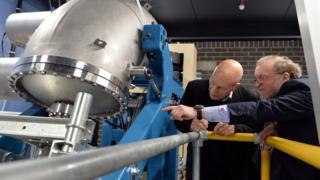 Sir Patrick Stewart has officially opened a £3.5m particle accelerator at the University of Huddersfield.
The dual-beam MIAMI-2 is already being used for microscopic experiments investigating the effects of particles on various materials, from meteorites to nuclear fusion.
It is available to both university students and external scientists from around the UK and further afield.
The Star Trek star described it as a globally "unique" addition.
More stories from around West Yorkshire
Scientists from Europe, Russia and the USA have already used MIAMI-2, which stands for Microscope and Ion Accelerator for Materials Investigation.
A recent experiment involved analysing nanodiamonds found in fragments of meteorite that landed in Siberia, with the results soon to be published in a scientific journal.
The Mirfield-born classically trained actor, best known for his roles in Star Trek: The Next Generation and the X-Men films, stepped down as university chancellor in 2015 after more than a decade in the role.
He said: "This university has progressed in such a way that every time I visit, there is something new and remarkable."