Naveeda Ikram: Ex-Braford lord mayor exonerated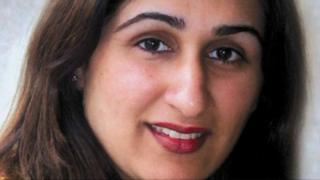 A former lord mayor of Bradford accused of misconduct in a public office has been exonerated.
Naveeda Ikram was accused of championing a business to district councils while failing to declare a financial interest in the company.
The case was thrown out during a trial at Leeds Crown Court due to insufficient evidence, but prosecutors lodged an appeal.
At the Court of Appeal, the judgement was upheld and Mrs Ikram was cleared.
More stories from West Yorkshire
She was charged with seeking to establish care contracts between a number of district councils and Nexus Assist Ltd.
Mrs Ikram began representing the Little Horton ward from 2004 and became the first Muslim woman to be a lord mayor in the UK in 2011.
She was arrested in 2016 and resigned from the council and the Labour Party in November after she became ineligible to stand in elections due to the ongoing case.
Following the Court of Appeal hearing, held on Wednesday, a statement from her legal team said she now hoped to be able to "once again assist the people of Little Horton".
Philip Goldberg, of Minton Morrill Solicitors, said: "Mrs Ikram has found this period of her life very distressing but would like to thank all of those people who have offered her support over the last two years."