Virtual reality recreates first photography show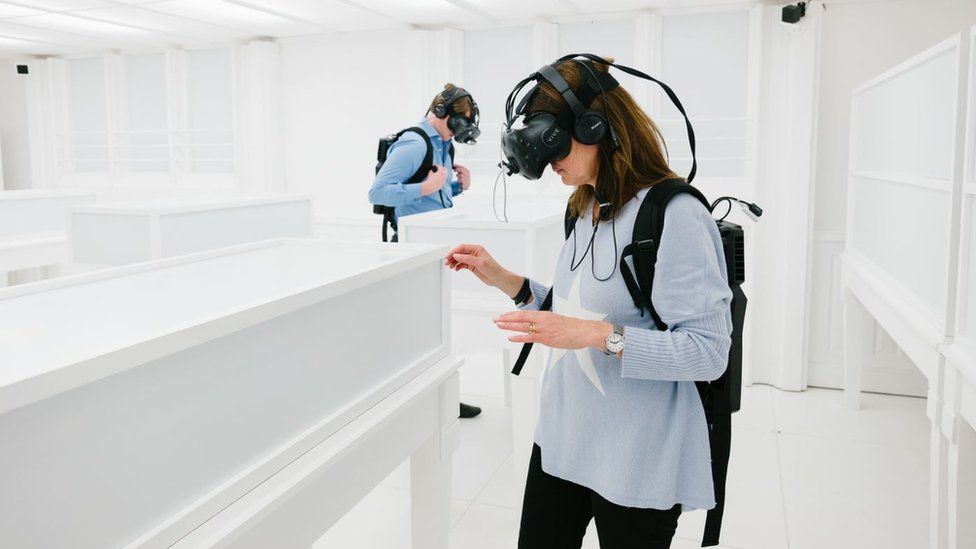 Virtual reality is being used to transport people more than 150 years back in time to experience the world's first photography exhibition.
Visitors can walk through a digitally reconstructed room replicating the event in 1839 when photographer William Henry Fox Talbot presented his prints.
Artist Mat Collishaw has created the experience at Bradford's National Science and Media Museum.
He said it was intended to be a "fully immersive portal to the past".
Using the latest virtual reality technology, the historic photography event, which took place at King Edward's School in Birmingham, has been recreated.
Visitors are able to experience the grandeur of the building, touch objects in the vitrines and feel the heat of a coal fire.
To prevent people from colliding with each other while wearing the goggles, other visitors appear as "ghostly avatars" in the virtual space.
The journey is set to the soundtrack of the Chartist protesters, who rioted in Birmingham in 1839, and who can be seen through virtual windows.
Collishaw said: "VR's ability to enable visitors to revisit the birth of photography - a medium that has come to saturate our lives - is uncanny and compelling.
"It is also quite appropriate as visual reality is a total 360 degree immersion of the viewer within an image, and is itself one of the many innovations spawned by the invention of photography."
To complement the exhibition, which runs from 2 March until 7 May, another display is on show which explores how innovators have used science and technology in photography, cinema and recorded sound to create immersive sensory experiences.
It features one of the earliest Victorian stereoscopic cameras and examples of stereoscopic equipment from Queen guitarist and photography collector Brian May's personal archive.
The museum said it was intended to show how immersive audio and visual technologies had a long and varied history.
Related Internet Links
The BBC is not responsible for the content of external sites.