Turkan Lowmani jailed for stabbing his wife 21 times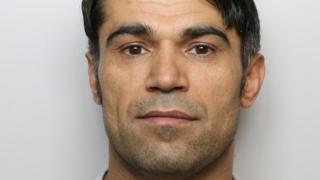 A man who stabbed his wife 21 times has been jailed for 19 years for attempted murder.
Turkan Lowmani, 33, attacked his wife Luftia after he returned home from work last August and found her talking to a man on her phone.
Lowmani, described as a doting father, wrongly believed his wife was having an affair, Bradford Crown Court heard.
He stabbed her with a kitchen knife while the couple's children were in the home on Idle Road, Bradford.
The victim was stabbed in the neck, back, abdomen and limbs, but during her husband's trial she gave evidence for the defence.
One stab wound lacerated her jugular while others had punctured her lung and cut an artery in her leg, the court heard.
However she expressed no hostility towards her husband in a statement given to the police, while the court heard she wanted him back.
Judge Neil Davey QC said only the speed and skill of the emergency doctor, who was quickly on the scene, and extensive surgery had saved her life.
"She has been left with significant scarring across her body which will be permanent," he said.
"Although it was spontaneous, this was a determined and sustained attempt to kill a defenceless mother of three young children which very nearly succeeded."
Lowmani was found guilty at a trial in January.