Scared Keighley teen hid baby in shoebox, inquest hears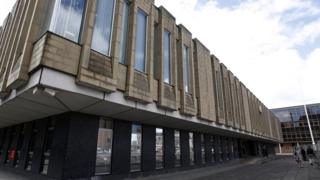 The mother of a baby found dead in a shoebox has told an inquest she covered up her pregnancy as she was too "scared and ashamed" to tell her family.
Ayesha Tariq was 19 years old when she gave birth alone at her home in Keighley, West Yorkshire, in 2013.
Bradford Coroner's Court heard the child did not cry when it was born so she placed it in a box under her bed.
A pathologist who gave evidence said it was "impossible" to say if the child had been stillborn or not.
More stories from across Yorkshire
The hearing heard how Miss Tariq told police that three days after the birth her mother, Tasleem Akhtar, had discovered the box.
The women put the box in the boot of her car and, three days later, they drove to Airedale General Hospital where they handed it to doctors.
Giving evidence Miss Tariq said she had not told anyone she was pregnant.
She said: "I was scared and ashamed. Every day I wanted to ask somebody for help."
Two pathologists told the hearing there were indications in the little girl's lungs she could have taken a breath, but they could not rule out the effect was caused by post-mortem processes.
Mrs Akhtar said her daughter would not have told the family about her boyfriend because "it's not what we do. It's not culturally acceptable."
Miss Tariq and her mother were arrested on suspicion of a number of offences but no action was taken following a review by the Crown Prosecution Service.
Giving a narrative conclusion, Mr Fleming said: "There's insufficient evidence, on the balance of probabilities, to determine whether baby Tariq was born alive or stillborn."