Kamran Iqbal jailed for 'relentless' attack on officer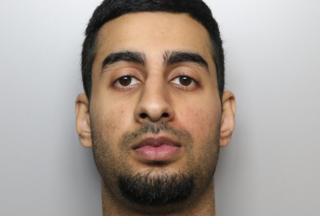 A man has been jailed for two years after he attacked a lone police officer on a routine traffic stop
Kamran Iqbal, 23, was stopped in his car by the traffic officer in the Rebecca Street area of Bradford in June 2016, Bradford Crown Court heard.
Iqbal had cannabis hidden in his underpants and a violent struggle ensued after the officer tried to handcuff him for a drugs search.
PC Steve Avinou suffered a broken nose and several chipped teeth.
John Dawson, a passing lorry driver, stopped at the scene and came to the officer's aid by putting Iqbal in a bear hug.
Meanwhile other bystanders were "sniggering" and filming the incident on a phone.
Judge Jonathan Durham Hall QC heard Iqbal, of Girlington Road, Bradford, had felt claustrophobic in the patrol car and also made allegations that the officer had been racist and had tried to strangle him.
However, the judge rejected any suggestion the defendant had been acting in self defence and called it a "sustained and relentless" attack.
PC Avinou estimated he was struck by up to 10 blows as he lay on the ground and had to undergo £700 worth of dental work.
He was able to use his CS spray to subdue Iqbal before other police officers arrived to assist him and take him to hospital.
The officer said in a victim impact statement it was still in the back of his mind when he faced similar situations.
Iqbal, who had no previous convictions, pleaded guilty to charges of assault and possession of cannabis with intent to supply.
The judge also awarded Mr Dawson £500 from public funds.