Dog found stabbed in dumped in suitcase in Halifax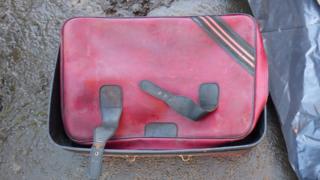 A dog found dead in a fly-tipped suitcase had been stabbed in the head and restrained, the RSPCA has said.
The dog, a bull breed, was wearing a collar but was not microchipped, when he was found in a layby in Halifax, west Yorkshire.
RSPCA inspectors said a lead had been wrapped around his legs as if to restrain him.
The RSPCA estimates he had been killed around 36 hours before being found on 26 January.
Sophie John, an RSPCA inspector, said council workers found the suitcase next to a fridge freezer on Heath Hill Road, Wharley, and opened it.
"They found the dog, wrapped in plastic bags. His head had been wrapped in towels and a pillowcase which were soaked in blood."
'Utterly cruel'
She said the stab wound was around 6cm (2.5 inches) long.
Ms John said she did not know if the dog had died before or after being put in the case.
"What is clear is that someone has gone to great lengths to dispose of him, very likely after brutally killing him," she said.
Ms John said she hoped someone might have witnessed the suitcase being dumped between 24 and 26 January.
"That someone could do something as utterly cruel as this makes me feel sick," she said.