Anti-terror group to aims 'to defeat terrorism at its source'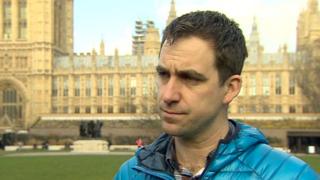 Survivors of UK terrorist attacks and bereaved relatives have launched a group to lobby the government over its anti-terror policies.
Survivors Against Terror wants more effective measures against terrorism and greater support for its victims.
Founders include the husband of murdered West Yorkshire MP Jo Cox and Dan Hett, whose brother Martyn was killed in the Manchester Arena bombing.
Brendan Cox said the group would try "to defeat terrorism at its source".
He added: "What terrorists want is for us to turn against each other, to hate each other.
"And what we want to do as a country is to come together in a united way and make sure we defeat it".
The organisation's other founders include; Gina Van Dort - who was injured and lost her husband in the Tunisia beach shootings, Jo Berry - whose father was killed when the IRA bombed the Grand Hotel in Brighton, Sajda Mughal - who was in the next carriage to one of the 7/7 London bombers and Travis Frain who was hit by the car during the Westminster Bridge attack.
The group said as well as supporting the work of the police and security services it would aim to tackle "hate speech that drives terror", especially on social media.
Martyn Hett was one of 22 people who died when Salman Abedi detonated a homemade bomb during a concert at Manchester Arena in May.
Mrs Cox, the Labour MP for Batley and Spen, was shot and stabbed to death by Thomas Mair in Birstall, West Yorkshire, in June 2016.
Mair was jailed for life for killing the 41-year-old mother-of-two.
The judge at his trial, Mr Justice Wilkie said the murder was carried out to advance a political cause of violent white supremacism, associated with Nazism.