Doctor's offer to recreate veteran's lost glass eyes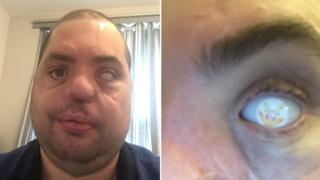 A prosthetics specialist has offered to recreate glass eyes for a blinded war veteran who lost his collection after leaving it on a train.
Simon Brown, who was shot during the Iraq War, left his 16 glass eyes worth £2,000 on a train from Leeds to London.
The Tupperware box contained various designs including a Yorkshire white rose, Union Jack flag and a dart board.
The 39-year-old from Morley said the offer by Leeds-based specialist Paul Bartlett was "incredibly kind".
More on this story and others in West Yorkshire
The veteran was shot in the head in Iraq in 2006 after going to repair an Army vehicle that was under fire.
He lost one eye completely and 90% of the vision in the other.
Mr Brown, who is now a spokesman for the Blind Veterans UK charity, said: "I've seen such generosity from people since posting on Twitter about losing my eyes.
"I was made aware of Paul's offer through friends of friends, so it's been a real community effort which is great."
He said he was keen to replace two of the designs special to him - a cat's eye, which was his first glass eye, and one featuring the Morley coat of arms.
As part of research by Leeds Teaching Hospitals NHS Trust, Mr Bartlett - a chief maxillofacial prosthetist - has developed a new technique to speed up the time it takes to make an artificial eye.
Instead of hand painting the eye, photographic technology is used to apply a print to it.
Mr Bartlett said: "When I heard about Simon, straight away I thought the work we're doing is something that could benefit him."
Leeds NHS Trust said steps would be taken to bring Mr Brown into the clinical process so he could benefit from the research work.