Steven Mullins: Murdered boy's family 'let down by system'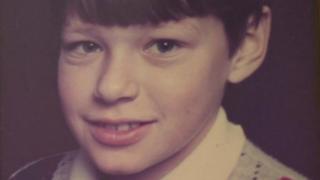 The family of a 12-year-old boy who was murdered in 1982 have criticised the level of support they received after his killer was released from prison.
Steven Mullins was sexually assaulted and killed in Dewsbury, West Yorkshire.
His killer Richard Mortimer served 34 years in prison and was released in December. Mr Mullins' father said they were only made aware of his release days afterwards.
The Parole Board said it had "the utmost sympathy" with the family.
More on this story and others in West Yorkshire
Paula Sherriff, Labour MP for Dewsbury, raised the case in the Commons, claiming a "worrying pattern" was emerging, following the decision to release black cab rapist John Worboys.
She told MPs how the Parole Board and victim liaison service "left so many of their questions unanswered".
In response, Justice Secretary David Gauke said he would meet with the Mullins family.
Michael Mullins, Steven's father, said: "They've just made it harder, we are battling the people who are supposed to be helping us.
"It's not just us they're letting down, it's other people. We just wanted an honest answer from them."
Louise Thewlis, Steven's sister, said: "You just don't get any answers from them, they've not supported us. I've had to ring them constantly and I feel like they just pass the buck."
In a statement, a Parole Board spokesperson said: "The Parole Board has the utmost sympathy with Mr and Mrs Mullins, who have experienced the most horrendous tragedy in the loss of their son.
"The chief executive has written to the family, and Paula Sherriff MP, in relation to their engagement in the parole process."