Toby Nye: Leeds United raise £200k for cancer treatment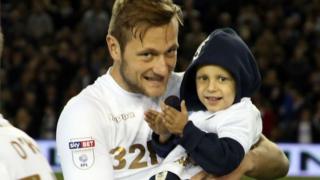 A football club has raised the £200,000 needed to fund a five-year-old boy's cancer treatment.
Toby Nye has high-risk neuroblastoma, a rare form of cancer, which spreads rapidly across the body.
Leeds United announced in October it would raise the money as the treatment is not routinely available on the NHS.
Players and staff, including chairman Andrea Radrizzani, gave a day's salary and fans also donated. Forward Samuel Saiz gave the final £25,000 .
Toby, from Osmondthorpe, Leeds, will begin his treatment next week, the club said.
More news from around Yorkshire
Managing director Angus Kinnear said: "We talk about family and togetherness a lot at our club, it's a culture we have been determined to reinstate across everyone involved with Leeds and raising this money has truly been a team effort.
"Staff, players, corporate partners and our supporters have united together to give Toby the best opportunity with further treatment and I am incredibly proud of everyone concerned."
On 27 October, the club held One Day for Toby, where players, backroom and office staff at the club joined those from the Leeds United Foundation and parent company Aser to donate a day's salary.
Toby will attend Saturday's game with Millwall, the last time he can visit Elland Road before his treatment begins.
What is neuroblastoma?
It is a rare type of cancer that mostly affects babies and young children
It develops from specialised nerve cells (neuroblasts) left behind from a baby's development in the womb
It affects about 100 children each year in the UK
The cause is unknown
In very rare cases children in the same family can be affected, but generally neuroblastoma does not run in families
Source: NHS Choices
He became ill at Christmas 2016 and on his fourth birthday in January 2017, his family was told he had a stage four neuroblastoma tumour.
Doctors told him he would need intense chemotherapy and radiotherapy as well as an operation to remove the main tumour on his kidney.
His treatment was unsuccessful and his family wanted to raise money to fund private care.