Leeds walker rescued after two-day Scafell Pike ordeal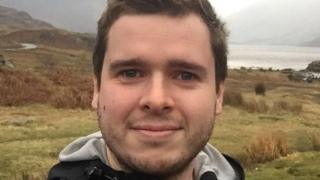 A walker survived two nights in sub-zero temperatures after getting lost climbing England's highest mountain.
Eighty volunteers made up the search for Richard Cockerham, 29, who went missing after scaling Scafell Pike on Sunday.
Mr Cockerham, from Leeds, had got lost in the severe weather and fallen over but was found on Tuesday.
Richard Warren said in his 35 years of mountain rescue work he had never found someone alive after that long.
More stories from across Yorkshire
Volunteer mountain rescuers were alerted to Mr Cockerham at about 10:00 GMT in a remote part of Upper Eskdale after hearing his cries for help.
He was taken by air ambulance to Furness General Hospital with suspected fractures to his wrists.
Mr Warren, a volunteer with Wasdale Mountain Rescue Team, said: "The rescuer who found him said if we hadn't had got to him today then there's no way he would have survived another day.
"The conditions on the mountain yesterday and today have been extremely harsh with temperatures dropping to minus six overnight.
"When we found him he was cold, tired and he was very, very pleased to see our red jackets."
Mr Warren said Mr Cockerham had become disorientated by the fog and mist and had been walking around trying to keep warm when he had climbed down to a lower level and taken a tumble.
As well as volunteers from Wasdale Mountain Rescue, teams were also sent from Keswick, Kirkby Stephen, Duddon, Bowland Pennine and RAF mountain rescue along with 12 rescue dogs.
Mr Warren said: "We are extremely grateful to all those volunteer and rescue teams that came to help.
"I don't think any of us expected to find him alive so when we did everyone was extremely buoyant."