Bradford Council says WCAT 'took £2m' from city schools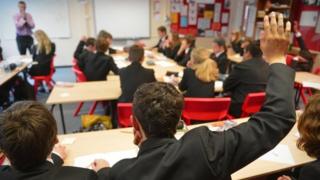 A collapsed academy chain has been accused of taking more than £2m of school funds.
Bradford Council claims Wakefield City Academies Trust (WCAT) moved the money out of city schools' reserves and into its centralised accounts.
WCAT pulled out of running 21 schools in Yorkshire, including five in Bradford, in September.
The council is pursuing the matter with the Department for Education. WCAT declined to comment on the claims.
More stories from across Yorkshire
A council motion, passed on Tuesday, said: "Prior to its collapse the trust had transferred millions of pounds of schools' funding to its own centralised accounts.
"Three primary schools and two secondary schools in our district have been affected by this course of action and stand to lose over £2m of our children's money.
"We demand the government is transparent with the dealings with WCAT and these monies associated with WCAT are returned urgently for the benefit of children in Bradford."
'Police investigation'
Imran Khan, cabinet member for education, said the money was intended for school expansion plans and building investments.
He said: "They are not able to do that now because they physically do not have the money earmarked for some of those projects - WCAT have taken it. I'm absolutely fuming."
Bradford is the second council to raise concerns about WCAT taking money out of schools.
Last month, Wakefield Council called for a police investigation into the collapse.
WCAT announced it was pulling out of the schools as it was unable to "facilitate the rapid improvement our academies need, and our students deserve".
The Department for Education (DfE) said: "A failing academy trust must never profit from the re-brokerage of its schools."
It went on to say it was working with the preferred trusts selected to run the schools to ensure they have the "support and resources they need to improve the outcomes for pupils as quickly as possible, which will include the necessary pupil funding".
A spokesman for WCAT reiterated its statement from September which said: "Together with the DfE, we will ensure that our academies get the support they need now, and as part of new trusts, to secure the educational experience of children in the schools."