Sinead Wooding death: Man's 'breakdown' over missing mum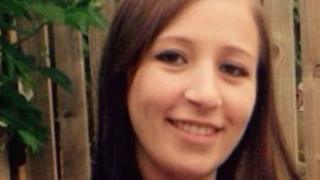 A husband accused of murdering his wife "had a breakdown" as he considered what had happened to her in the hours after she went missing, a jury heard.
Akshar Ali was interviewed eight times over four days by homicide detectives.
Asked directly if he was responsible for murdering Sinead Wooding or if he knew who was responsible, he said "no".
Mr Ali, 27, of Scott Hall Road, Leeds, and his friend Yasmin Ahmed, 27, of Reginald Mount, Potternewton, deny killing 26-year-old Ms Wooding.
In the days after the mother-of-four went missing he claimed to have made "loads of calls" to his wife's phone as he "constantly" attempted to locate her.
However her body was found in woodland on 14 May. She had been beaten, stabbed and set on fire.
During police interviews Mr Ali rocked back and forth in his chair.
'Couldn't stop crying'
Leeds Crown Court was told that the couple had argued at a house party at Ms Ahmed's home on 11 May.
Mr Ali claimed that Ms Wooding, who was "really badly drunk", walked out, saying she was going to a friend's.
He said no violence occurred and he left shortly afterwards.
At one point he "had a breakdown. I couldn't stop crying. My wife had not come home.
"It was dark. Someone could have kidnapped her. Anything could have happened. My head's been all over the place."
Mr Ali's mother Aktahr Bi, 45, denies assisting an offender by procuring a vehicle and assisting in the disposal of Ms Wooding's corpse.
His brother Asim Ali, 21, also denies assisting an offender by procuring a vehicle and assisting in the disposal and burning of her body.
A fifth defendant, Vicky Briggs, 25, denies assisting an offender by helping clean up and burn material after the murder.
The trial continues.