Yorkshire Water brings in drones to spot leaks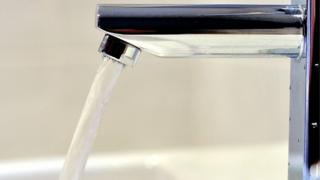 A water company is bringing in drones and satellite imaging to help to combat underground leaks.
Yorkshire Water said about 20% of its water was lost to leaks, which equated to 295 million litres a day in 2016/17.
It comes as the Bradford-based firm announced 300 new jobs, including "leakage inspectors".
It aims to cut the average time people lose their supply by two-thirds in three years.
'Leaky finders' - more on this story and others in West Yorkshire
Drones are being trialled to map 19 miles (30km) piping from York to Sheffield and to detect escaping water.
In Halifax, satellite detection has been tested to help locate leaks within a 100m radius.
Pamela Doherty, director of service delivery at the firm, said: "Customers want us to lose less water in leaks, minimise interruptions to their supply and reduce sewage escapes from our system.
"Our plans combine intensive use of traditional engineering skills with some innovative applications of new data led techniques."