Ann Maguire inquest: Pupil wanted to stab pregnant teacher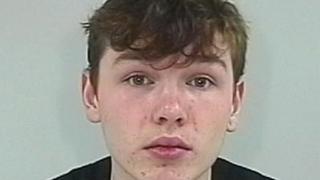 A boy who stabbed his teacher to death told pupils he also wanted to stab a pregnant teacher because he wanted to kill her baby, an inquest heard.
Ann Maguire, 61, was murdered by Will Cornick, at Corpus Christi Catholic College, Leeds, in April 2014.
It was revealed at the hearing how he planned to attack other teachers after stabbing Mrs Maguire.
Wakefield Coroners' Court heard he told pupils about the knife he intended to use and showed it to some.
Extracts of statements taken from pupils were read out at the inquest into Mrs Maguire's death.
One said: "He was sort of saying he looked at the human body and how to kill people because he wanted to kill them fast."
The pupil said Cornick told him this was so he could go from Mrs Maguire to other teachers.
"He was going to stab Miss Miley in the stomach because she was pregnant and wanted to kill the baby instead."
Cornick also said he was going to stab Mr Kellett in the throat because he wanted to go to prison, the boy told police.
Another pupil described how Cornick showed him the weapon he intended to use - a 34cm (13in) kitchen knife.
Nick Armstrong, representing Mrs Maguire's family, said on the morning of the attack, Cornick told 10 students about the knife.
None of them reported it. The inquest previously heard they did not believe him.
After the murder, one pupil told teacher Emma Conway about having seen the knife .
Miss Conway told the inquest she had taken Cornick for art.
She said: "He was very quiet and seemed to hide under his hair a lot.
"I would never have thought that someone so polite and well-mannered would dream of doing anything so horrific."
The inquest continues.