Uber driver accused of sex assaults loses private hire licence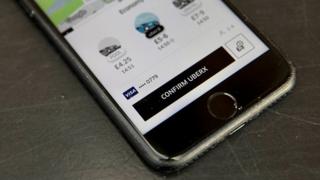 An Uber taxi driver accused of sexually assaulting two of his passengers in Leeds has lost an appeal to keep his private hire licence.
Leeds City Council claims Naveed Iqbal used his brother's Uber driver login while he was away and assaulted two women on separate occasions.
The city's crown court heard no charges had been brought, but a judge said it was him who carried out the attacks "on the balance of probabilities".
He was told to pay £1,500 in fees.
Mr Iqbal, 39, shared a Volkswagen Sharan people carrier with his brother, also an Uber driver, and picked up fares at night while his sibling worked in the day.
The court heard two women were picked up in Leeds city centre after nights out in December 2015, with the women sitting in the front passenger seat on both occasions.
Providing evidence via video-link, one woman said she fell asleep in the cab and woke up to find the driver of the vehicle fondling one of her breasts.
'Technical fault' defence
Another told the court she was taken to a dark road near her home and the Volkswagen's driver "put his hands on my chest and under my clothes".
Leeds City Council found the Uber driver account logged in at the time of the assaults belonged to Mr Iqbal's brother, but he was in Pakistan at the time.
Mr Iqbal denied using his brother's Uber login and sexually assaulting the two women, blaming a "technical fault" on the phone or the Uber app.
Judge Simon Batiste told him the vehicle which picked the women up was "only ever used by two people" and one was out of the country.
Dismissing his appeal to retain his licence, he said: "We are satisfied that he is not a fit and proper person to hold a licence.
"He's extremely fortunate that criminal charges have not been brought against him."