Leeds Pals boy soldier's final letter goes on display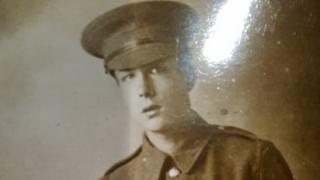 A teenage soldier's final letter home from the front line is going on display for the first time after it was discovered by a private collector.
Horace Iles was 14 when he lied about his age and signed up to fight with Leeds Pals during World War One.
His letter was sent five weeks before he died on the first day of the Battle of the Somme at the age of 16.
It is going on display at Leeds Museum ahead of Remembrance Sunday.
Read more stories from across Yorkshire
---
Who were the Leeds Pals?
The Leeds Pals was a volunteer battalion formed in September 1914.
In March 1916, the battalion landed in France, joining the British build up for the Battle of the Somme.
On the first day of the Somme, the battalion was hit hard and of the 750 members who fought that day, just 72 were uninjured by nightfall.
---
Dated 25 May 1916, Private Iles wrote to his sister Florrie from France where he was stationed.
He says: "Just a few lines hoping to reach you in the best of health as it leaves me at present, I was discharged from hospital about two days ago."
He goes on to say: "Well Dear Florrie how are you getting on hope you and the nipper are in the pink."
Florrie sent a letter back to her brother but it arrived at the front two days after he was killed and was returned to her unopened.
Pte Iles' letter was discovered by David Owen who was researching the Leeds Pals and found it amongst a box of WW1-related documents.
Mr Owen, from Lincoln, said: "To me, Horace Iles epitomises all that was good about the Leeds Pals: patriotism, loyalty, bravery, comradeship and sacrifice."